Conecteaza-te cu reteaua ta sociala!
Webmaster

Posts: 42
Joined: 21 Aug 2018, 11:23
Location: r00t
Squad: After Five Kills
Rank: Grandmaster
Nume in joc: Skinny Man
Has thanked: 6 times
Been thanked: 6 times
Contact:
Sistemul "Thanks for post" (un fel de like pe Facebook
) iti permite sa dai like unei postari daca aceasta ti-a fost de ajutor. Sistemul este foarte simplu si nu are nevoie de detaliere.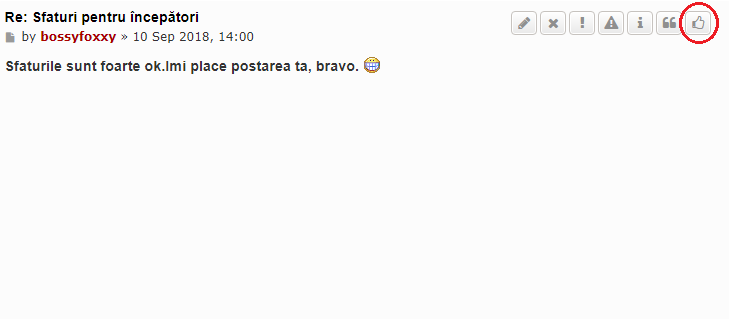 These users thanked the author Skinny Man for the post (total 2):
---
Advanced

Posts: 36
Joined: 07 Sep 2018, 10:54
Location: Ploiești
Rank: Master
Nume in joc: Incomod
Has thanked: 8 times
Been thanked: 4 times
Contact:
Foarte util. Cel puțin pentru mine.
These users thanked the author Răzvan for the post (total 2):
---
---